Content is one of the most crucial aspects of online marketing that may make or break the reputation of your website. A beautifully crafted website always has the potential to drive more web visitors. But a unique and well-organized content helps in building the brand value of a business.
With the help of WordPress, you can easily add, edit and modify the content of your site. But managing the different types of content on a regular basis becomes quite difficult. There are dozens of blog posts, more detailed web pages and hundreds of images and videos within a website. And as the amount content begins to increase, it becomes perplexing to manage and organize the content on a regular basis.
Fortunately, WordPress offers a plenty of outstanding plugins that can help you manage the content of your site with ease.
We bring you the list of 10 most powerful WordPress plugins that will let you manage your content of your site in no time. So, read this blog post and pick out the most suitable plugin for your site.

Compatible up to WordPress 4.5
With over one million active downloads, TinyMCE Advanced has become one of the most sought-after plugins for WordPress. It allows the user to add, remove and arrange the buttons that are displayed in the Visual Editor toolbar. It incorporates 15 plugins for TinyMCE that are automatically enabled or disabled depending on what types of buttons you select. This plugin is ideal for those who are new into the web development world. Sometimes it becomes difficult for them to use the default WordPress content editor. The user might need to embed manifold horizontal rules or anchor links to multiple pages. In such circumstances, TinyMCE Advanced plugin comes into existence. It adds more options to the default content editor to make the job of novice user easy and convenient.
Compatible up to WordPress 4.5
Admin Post Navigations is a fantastic WordPress plugin that helps you integrate links to navigate to the next and previous posts while editing a post in the WP admin.In other words, this plugin adds buttons in the back end that enables you to edit the "Previous" or "Next" post/page. Instead of returning to the main list of posts/pages to edit the next post/page, you can do it quickly after saving the one that you just modified.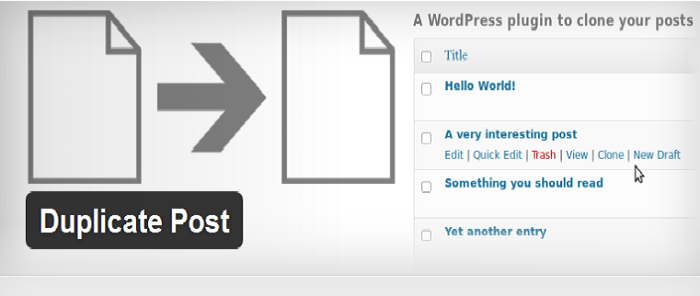 Compatible up to WordPress 4.4.2
Duplicate Post is a great plugin that lets you copy a post or page, or edit it as a new draft. Most of the time, a user will need to create a post or a page that has the same layout and formatting as another page with different content. In such a situation, he/she can clone the post or page and then edit the new page with the help of Duplicate post. In addition, this plugin embeds a simple yet robust functionality to WordPress. Cloning a post or page is as simple as clicking a button. It helps in speeding up your work and saves your precious time and effort.
Compatible up to WordPress 4.3.3
This plugin allows you to add syntax highlighting to the HTML editor. In other words, HTML Editor Syntax Highlighter plugins let you add syntax highlighting and colors to the HTML editor to make the code more readable and accessible. The site owners who are familiar with HTML editors like Dreamweaver will detect the similarities to code view. With the help of this plugin, you can restore cursor position after a page is reloaded. It also comes with light and dark editor color themes and allows you to toggle fullscreen mode with F11/Esc hotkeys.
Compatible up to WordPress 4.5
Media Library Assistant Plugin boosts the Media Library. It is perfect plugin for those web users whose Media Library consist hundreds and thousands of uploads. At the time of a site migration, most of the images need to be re-added to multiple posts and pages. With this plugin, you can easily search for the exact image file by searching for its exact filename. However, the default search feature of the Media Library doesn't produce the similar results. In fact, if you searched for the specific filename, then no results would be found. Therefore, Media Library Assistant plugin plays a crucial role in managing a content of your website.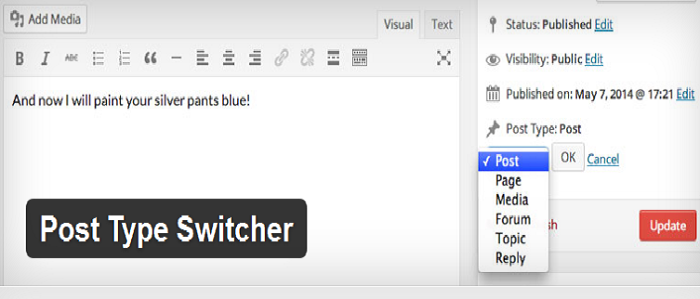 Compatible up to WordPress 4.5
Add a simple post type dropdown to your post editor interface with the Post Type Switcher plugin. It is an incredible plugin for WordPress that allows you to reassign any post to a new post type. You can easily switch post's type when editing your post. This plugin simplifies the job of the end user by allowing them to add and edit multiple types of content within your site.
Compatible up to WordPress 4.5
Post List Featured Image is a convenient plugin that embeds the "Featured Image" column in admin posts and pages list. It allows the WordPress site owners to view which posts or pages have a featured image set. It lets you add a thumbnail image of the featured image used in posts and pages to the main posts and pages list view. A plugin lets site owner recognize a blog post or content page by viewing the featured image.

Compatible up to WordPress 4.4.2
Better Internal Link Search is an amazing WordPress plugin that enhances the default internal link searching feature by making it faster and simpler. It allows site owners to find the content you want to link up. Plus, it comes with a variety of customization options that lets you customize your internal link searching feature with ease.
Compatible up to WordPress 4.4.2
This plugin lets you order categories and all custom taxonomies in a hierarchical order by making the use of Drag and Drop Sortable JavaScript capability. Category Order and Taxonomy Terms Order used to arrange or edit the order of blog post categories and custom post type taxonomy terms in a simple and convenient way.
Compatible up to WordPress 4.1.10
Simple Page Ordering wasn't updated from the last one year. But still it is one of the most powerful WordPress plugin for managing site's content.
This plugins lets you arrange your pages and other hierarchical post types with user-friendly drag and drop interface. You can easily order the multiple posts and pages of your site and save your time and effort.
Conclusion
A WordPress site with well-organized content not only attracts potential visitors but also improves the usability, accessibility and SEO ranking. If you want to manage the content of your site, you can cherry pick any of the above plugin for your site.
All the plugins mentioned in this blog post are free and powerful. You can install these plugins right from the official site of WordPress Plugin Repository.
Author Bio:
Maggie is a wordpress developer by profession and writer by hobby. She works for Markuphq Ltd., which is an expert in convert psd to wordpress to global clients.