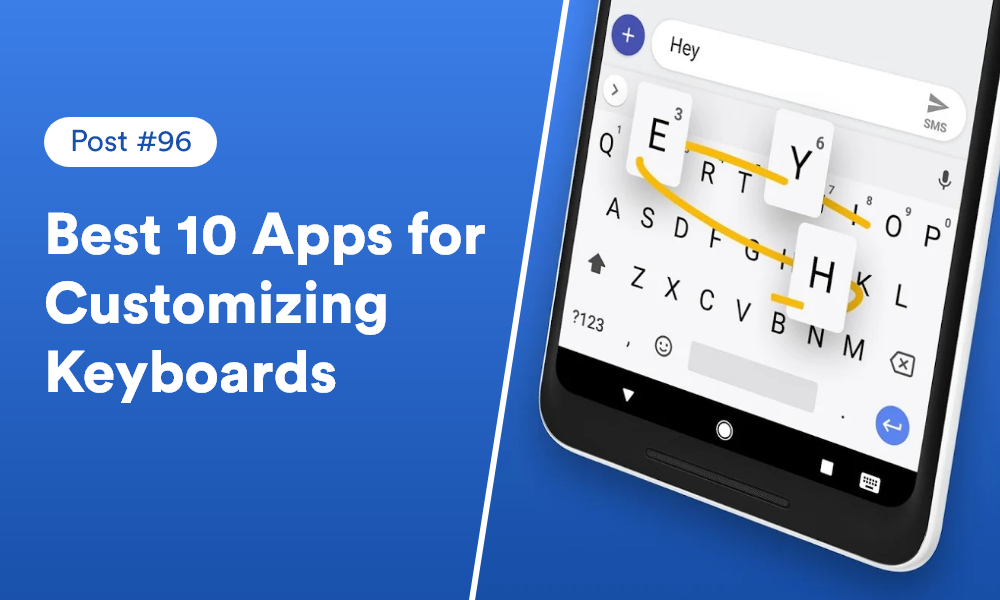 It's been years now. You've been typing on the same phone keyboard since you first bought a smartphone. Unless you have switched from iPhone to Android or vice versa (or to some other smartphone) recently, then you are probably getting a little tired of the keyboard. Smartphones are an incredible tool, and they're always being updated each year to improve the user experience, but the keyboard doesn't really change.
While routines and a solid understanding of what you're doing are important to productivity, have you ever thought about customizing your keyboard to suit your needs better? I have been spending a lot of time typing on my phone lately and began researching some new keyboard options. I found this useful page that lists out a lot of user-friendly apps that can help you create the keyboard you wish you had.
Great Apps for Customizing Phone Keyboard
There are a lot of different functions featured in all of these apps. From better word prediction software to more emojis and gifs, all the way to newer and faster gestures and swipes, these apps have everything you need to create a keyboard that can help you type faster and have more fun on your phone.
Helpful Word Prediction Features
One of the most powerful features of keyboard apps is predictive type. This looks different on all keyboards and apps, but the basic idea is that a few options of words will come up for you to choose from so that you can click on that word instead of having to type it all out. For instance, if you type the word "when" into a text message, that word is often followed by the word "do", so "do" will be one of the options to click on.
Predictive typing can make the user experience better in a lot of ways. Some people may use their phone primarily for business-typing emails and texts or long posts on social media trying to sell products. Other people might use their phone socially-typing text messages or sending Snapchats back and forth. Either way, whether the typing is business-related or socially motivated, everyone wants it to happen faster. Typing faster, if it's accurate, is always a benefit, so word-prediction can help reduce screen time and get your words out there swiftly.
Customize Emoji and Gif Experiences
Even though predictive keyboard apps are very helpful when they are accurate, some of the best mobile keyboard apps don't have anything to do with the letters. One of the most exciting features of messaging through smartphones is the ability to get your point across more effectively or help the reader understand your tone by adding a gif or an emoji.
Instead of basic emoticons and complicated gif downloads from the Internet, you can use advanced mobile keyboard apps to create custom emoji keyboards and a large selection of gifs. With these keyboard modifications, a fun emoji or a spot-on gif to help get your point across is just a few clicks away, creating effective, quick, and fun-to-read messages that will never be misunderstood.
Increase Typing Speed
Along with easier gifs, emojis, and predictive texts, these helpful keyboard apps feature ways to improve the feel of the keyboard and the typing speed. By making the swiping gestures more effective, you can actually type faster than ever before. Some might even argue it's more effective than predictive texts.
You see, improved swiping gestures on custom keyboards will actually allow you to type words without lifting your finger off the screen. Simply dragging your finger from letter to letter will result in the word you had in mind, increasing the speed of your messages dramatically.
Conclusion
In today's world where speed and productivity are everything, custom keyboard apps that allow you to type faster and send gifs and emojis much easier can take your productivity to the next level.