What is a UI kit?
UI kits a are a collection of files containing UI components for the user interface design. They contain elements like progress bars, switches, sliders, navigation button, buttons, check boxes and much more. They can integrate with your design very easily and come with a wide range of color options. They enable you to create new components which you can add to your design as features objects.
You can resolve your common design issues like icons, call to actions, breadcrumbs, navigation etc. with the help of UI kit. These kits are very detail oriented and save a lot of time for you while giving a better result.
Here is a list of top 5 trendy Bootstrap UI Kits: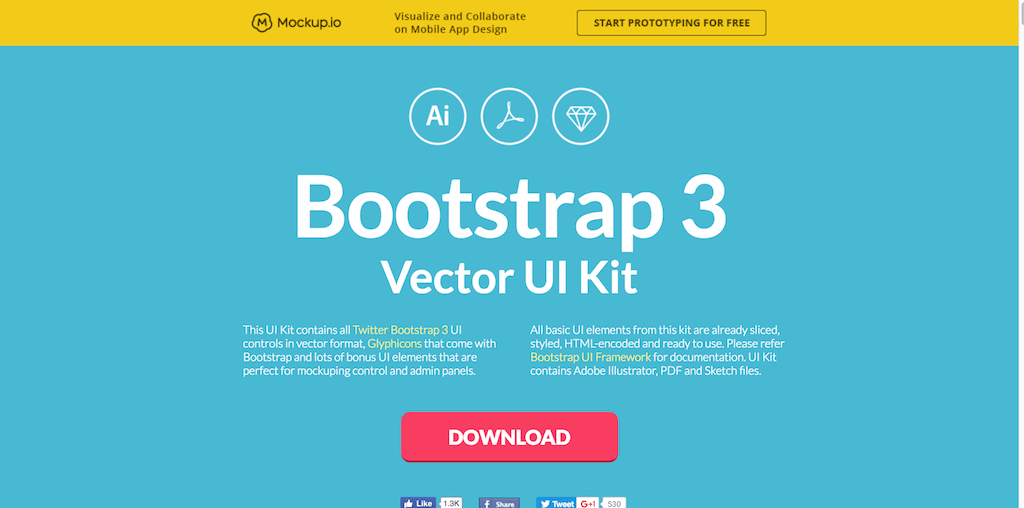 This is an amazing UI kit and contains all Twitter Bootstrap UI controls in vector format. It comes with HTML encoded and ready to use UI elements. It includes Adobe illustrator, Sketch, and PDF files. It includes Glyphicons which comes with bootstrap and a number of bonus UI components which can help you in providing a better admin panel.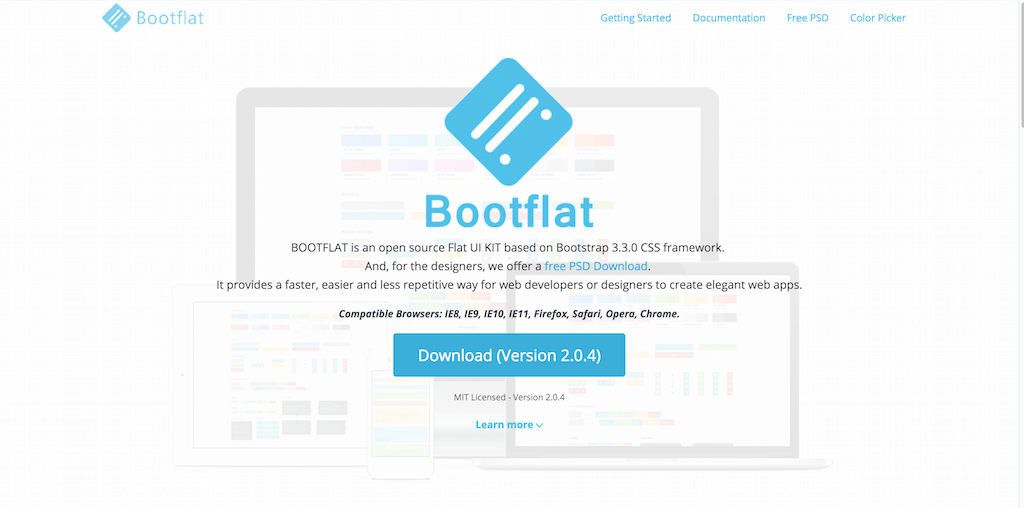 Bootflat is a modern Flat UI Kit which is based on Bootstrap 3.3.0 CSS framework. It contains useful UI elements for the Bootstrap users. It contains an arrangement of elements which can be utilized to bootstrap an application for Android or iOS or a simple start up site. Bootflat enables you to use what you require as it is able to work independently. It provides you all of the small tools to prototype a business website in no time. It allows you to pick from a number of components like headers and footers, buttons, calendars, content and comment areas, forms and much more. It is compatible with all major browsers like Firefox, Chrome, Safari, IE8 to IE11 etc.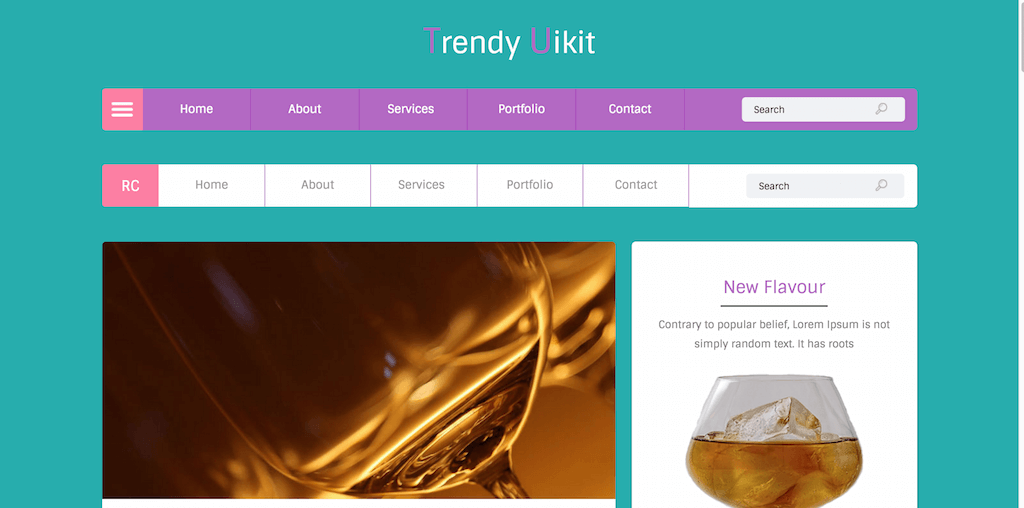 Trendy UI Kit is a clean and Flat UI kit fro W3layouts.  It is a responsive template which includes a number of UI elements for web applications. It is designed beautifully and can be easily customized according to your needs. It comes with a flat grid system. Its feature os being responsive makes it compatible with all the devices like a PC, mobile or a tablet. It is designed with the use of HTML5 and CSS3. It comes with an individual card component for products which includes Product details, photo, and order button. It also has a full-width slider for making statements about your offers, or other important information.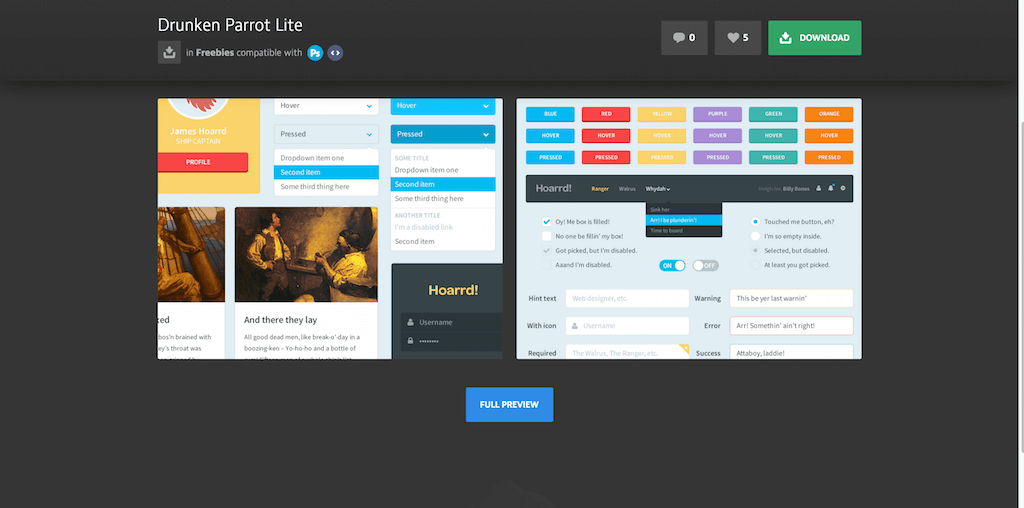 Drunken Parrot Lite is an appealing UI kit which is based on Bootstrap 3. It is created on 980px grid and has a clean flat style. It will help to add more stability with a more mature texture to your designs making them more and more appealing. It includes HTML and PSD both. It works well with Adobe CS5+. It enables you to use checkboxes and radio buttons along with the switches. It also includes a vertical and horizontal profile widget, a login page widget, with a toolbar widget.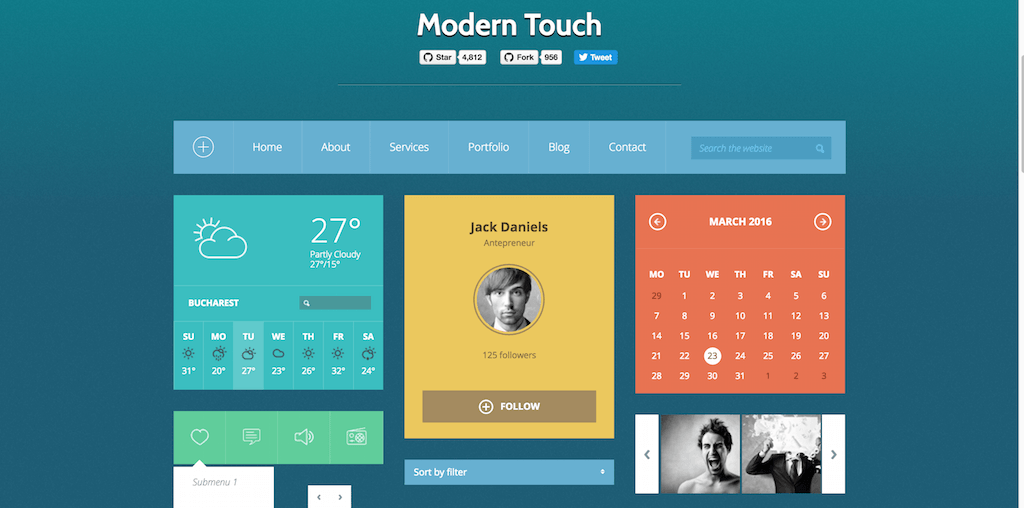 Modern Touch is a modernized UI kit which comes handy for all your website, platform, and application needs. It comes with a weather forecast widget and an exclusive metro style slider with some metro style buttons. The navigation menu comes with an inbuilt search form. It also includes social buttons for Google+, Twitter, Facebook, Vimeo and Dribble. It enables you to put a distinctive focus on the content by using a right balance of the typography. It comes with scalable vector graphics. It also includes free updates for the kit.
These are some of the best UI kits. You can choose a UI kit according to your needs and it will surely help you to make your designing efforts easy and effective.