Recently Google has unveiled the public beta of Google Web Designer Desktop Application. GWD is a desktop software for generating responsive HTML5 sites and ads. This was made for the resolution of generating advertising units, but it also can be used for construct webpages and other none advertising resources.
Google Web Designer (GWD) lets you program webpage that cover sketches, computer graphics animations, and 3D substances. GWD contains gallerias of inbuilt objects to drag and drop, edit, and execute in the making of animations and HTML5/CSS3 effects. The effects are made of layered timeline shown toolbar of web designer.
Although, I have try it back some days. It's not a desktop application that maximum folks will master speedily unless they have former web design knowledge. Auspiciously, Google provides a large range of tutorials on how we can use GWD. Most of the tutorials are available on [highlight]YouTube[/highlight]. If you want to try Google Web Designer, you will just have an average configuration on your system. I have tried it on my Laptop Window8, 64bit with 4GB of RAM.
Some important feature you will find:
[checklist]
Just concentrate in you design you will get code on execution.
Make your art HTML5 animated with spontaneous set of design tools.
See & modify code behind your creative and preview your changes reflected back on the platform automatically.
Supposts ad creatives seamlessly for DoubleClick and AdMob, or broadcast them to multi-screen.
Automatic Update no need to re-download the app.
Free of cost
[/checklist]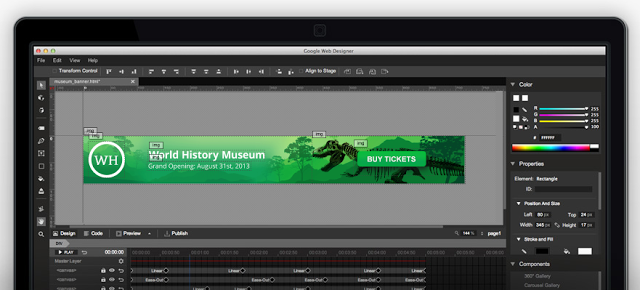 [button color="green" size="medium" link="http://youtu.be/kHj7fqbNaQw" target="blank" ] View Demo [/button] [button color="red" size="medium" link="http://www.google.com/webdesigner/#download-webdesigner" target="blank" ] Download[/button]
For More information:
Visit Google Web Designer Website or read through getting started guide.
[divider]
Useful Links:
Website: http://www.google.com/webdesigner/
YouTube Tutorial: http://www.youtube.com/user/GoogleWebDesigner?feature=watch
Google+ Profile: http://plus.google.com/+GoogleWebDesigner
GWD Support: https://support.google.com/webdesigner/#topic=3249465